NOTICE:
Australian College of Hair Design & Beauty
Has Closed Down
You May Want To Look At Some Other Training Organisations:
What are Beauty Therapy Courses?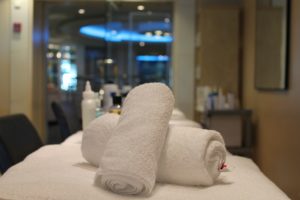 Beauty therapy courses are courses that equip you with the relevant knowledge you need to become a professional beauty therapist. The courses deal with beauty lessons such as facial therapy, electrology, and body therapy.
Facial therapy treatment involves electrical and manual treatments on the face. It also extends to include such things as waxing, facial treatment to get rid of acne, and application of natural ingredients on the face to soften and rejuvenate it.
It also involves eyebrow and eyelash tinting as well as eyebrow shaping. With facial therapy course, you get to learn how to perform other advanced methods of facial electrical treatments such as:
Microcurrent

Infra-red

Direct high frequency

Faradic

Vacuum suction

Lontophoresis (Galvanic)

Indirect high frequency

Desincrustation (Galvanic)
You will learn how to perform a deep and superficial cleansing on the face. With this course, you will learn how to exfoliate, tone, and moisturize the face the right way. The course will also teach you how to perform facial massages which relaxes the tense muscles on the face.
Electrology includes the treatment made on the face as well as on the body. It is mostly the removal of hair on the body using electronic devices. This practice is an age long practice that has come back to take over the hair removal scene.
Some of the lessons you will learn under electrology include:
The blend electrolysis

Galvanic electrolysis

Electrolysis treatments performed on the face, arms, underarms, legs, and the entire body.
In the advanced or post-graduate level, you will also learn treatments such as Intense Pulsed Light (IPL) treatments, red vein treatment, microdermabrasion to name a few.
Body therapy is a more generalized beauty therapy that involves lessons on:
Introductory exercise advice

Introductory advice on diet and nutrition

Neck, shoulder, and back massage

Cellulite treatments

Swedish body massage

Figure analysis

Full leg massage

Body electrical treatments as mentioned in the facial therapy above.
It also involved mechanical and vibratory massage.
When you undertake courses in beauty therapy, you will also be able to perform nail technology like pedicure and manicure, nail fixing and nail art.
To qualify as a beauty therapist, you need to have at least a diploma in beauty therapy which involves basically all the above-listed courses.
Makeup Courses
These are courses that teach you how to prep the face and transform someone's look in different ways. With makeup courses, you get to learn how to:
assembly a makeup kit
handle facial shapes and characteristics
apply mascara, blush, and eyeliner
apply airbrush techniques
waterproof makeup
use color therapy
do facial contouring using shadows and highlights
manage skin imperfections such as patchy skin, blotchy skin, broken capillaries, etc
use shades and undertones
apply false lashes and eyebrow shaping
do various makeup such as fashion shoots and bridal makeup
sanitize makeup kit and brush
You will probably also learn how to differentiate between avant-garde and natural makeup, and how to use each of them.
IPL / Laser Hair Removal Courses
Intense Pulsed Light (IPL) or laser hair removal courses are considered new entrants into the beauty therapy field. However, they are fast becoming the preferred method of hair removal and skin rejuvenation. IPL/ laser hair removal course is a must for anyone considering the field of clinical aesthetics.
The course will teach you how to remove hair in an almost pain-free way using non-invasive methods. After undergoing the courses, you will be able to learn how to use laser treatment to rejuvenate the face, which is known as photofacials. This eliminates the appearance of spots, fine lines, and damages caused by the sun.
IPL laser hair removal courses will teach you how to target hair follicles and stop them from growing more hair. After some treatment, the hair will no longer be able to re-grow.
Some of the things you will learn in this course are:
Light and laser treatments for hair removal
Light and laser treatments for skin rejuvenation
Different types of laser hair removal
How to check the physiology and anatomy of hair and skin
How to practically apply light therapies
Contra-indications and much more!