GRADUATE CERTIFICATE
IN IPL & LASER HAIR REDUCTION | ACH Database
COURSE CODE: SIB70110
 
UNITS: 5
GRADUATE CERTIFICATE IN IPL & LASER HAIR REDUCTION
MELBOURNE'S MOST COMPREHENSIVE INTENSE PULSED LIGHT (IPL) & LASER TRAINING COURSE
Course Fees:
*Tuition Fees

Amenities Fees

Materials Fees


(Equipment, uniform & books)

$7,920

(4 payment installments of $1,980)

$250

$300
Our student to teacher ratio is also purposely kept low, to facilitate effective leaning. In conjunction with your training in IPL & Laser hair reduction, our experienced trainer will give you further practical training in Chemical Peels,  IPL Skin Rejuvenation, Vascular, Pigmentation and/or Acne treatments.

We are proud to partner with Australia Aesthetic Devices to provide you with training with the lastes Laser technology from this well respected company. For more information of their machine ranges
Description
This hair removal course is for students that possess a high level specialised knowledge in the field of IPL & laser hair reduction. It gives them the ability to design non-ionising radiation treatments that use intense pulsed light and laser technologies and then implement those treatments to remove unwanted hair from the face and body.
An individual in this role will be responsible for using their own judgement to make complex and high level decisions around designing and implementing treatment through consulting with clients and analysing the characteristics of their hair and skin. Responsibilities in this area will include choosing appropriate technology and applying it with safe client and operator practices in mind and complying with regulatory requirements.
Continued development of technology in this area requires the use of broad knowledge and a high level of analytical skills to identify and evaluate information from a variety of sources. This qualification applies to hair reduction therapy in the beauty industry or other settings where cosmetic IPL & laser hair reduction is offered.
Entry Requirements
All students must undertake a LLN assessment to ensure they have sufficient LLN skills to complete the course.
Students intending to access VET FEE-HELP will need to provide a certified copy of a Senior Secondary Certificate of Education for completion of Year 12 OR achieve an exit level 3 in Reading and Numeracy to be eligible
Additionally please follow the chart below to see if you have met the "previous training" entry requirement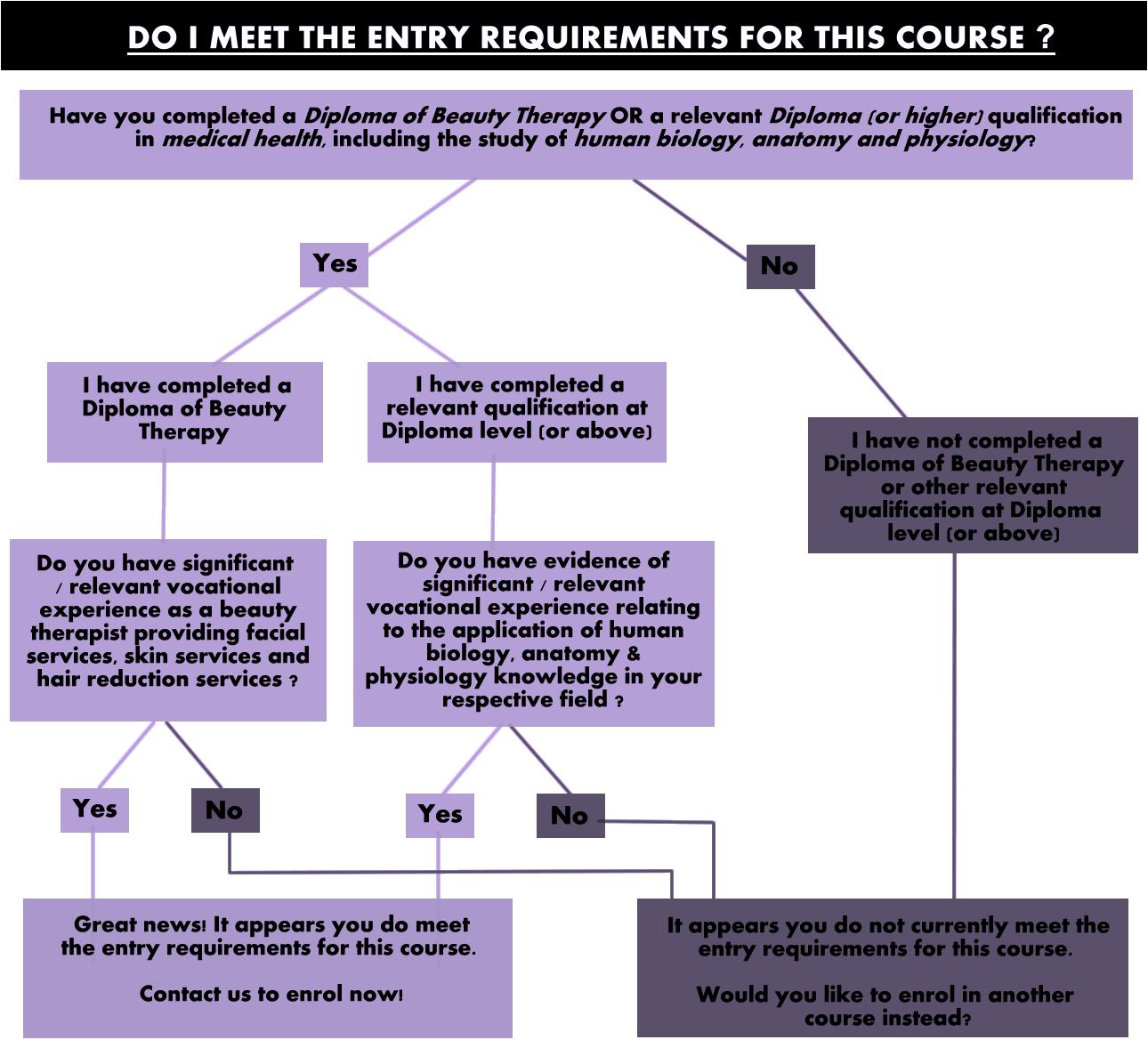 Please contact the college to see how you can meet our entry requirements to study this course.
Course Outline:
Apply intense pulsed light and laser safety practices
Design intense pulsed light or laser hair reduction
Investigate developments in cosmetic treatments using light or laser systems
Maintain infection control standards in office practice setting
Provide intense pulsed light and laser hair reduction treatment
Get the accredited training for IPL & laser hair removal at the ACH Database. Our IPL & Laser courses are Melbourne's most comprehensive training. Enrol today for IPL & Laser training.
Contact us to arrange an interview for this course
COURSE DOWNLOADS
2016 ACHDB VET FEE HELP prices v.1 – IPL
Click to Download
or
Apply Online Now »