WHY STUDY IN MELBOURNE?
Victoria is home to almost 5 million people with 100,000 living in the capital city, Melbourne.
A combination of this multicultural diversity and a temperate climate has translated into Melbournians love of fine dining, arts and culture, sports and the outdoors. Being in the Southern Hemisphere Melbourne's seasons are opposite to that of North America, Europe and most of Asia. It has a reputation for unpredictable weather, where all four seasons can be experienced in one day. Nonetheless, Melbourne offers a comfortable environment, regardless of the season.
Melbourne is a unique and beautiful place to live and work. The city itself, is well-designed and located amidst parklands along the banks of the Yarra River, just a few kilometres from Port Phillip Bay. With the sea to the south and mountains to the north, the city offers something for everyone.
Melbourne has a vibrant intellectual and cultural centre and a creative and entrepreneurial soul. It has extensive parks and gardens, spacious suburbs, affordable housing, good education, accessible public transport and a modern road system. With a low crime rate, it provides a safe and healthy environment in which to live and work.
In terms of entertainment, Melbourne has a plethora of cosmopolitan cafes, restaurants and clubs, a vibrant arts scene and world renowned sporting events.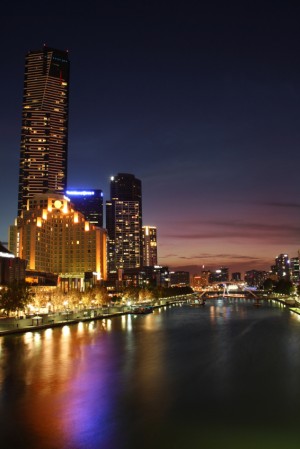 LOCATION
Melbourne is located in Victoria, Australia.
WORKING IN AUSTRALIA
Many international  students wish to work while studying to help finance their stay. Students are able to work 20hrs per week, whilst studying. For more information on working conditions please visit: www.immi.gov.au.
RESTAURANTS
Melbourne's restaurants, cafes, bistros and bars are represented by a wide range of international cuisines catering for all tastes and budgets. Spread throughout the city and inner suburbs, these include:
Chinatown in Little Bourke Street
the Greek precinct in Lonsdale St
the Italian section in Lygon St
Vietnamese restaurants and shops in Victoria Street, Richmond
ARTS AND ENTERTAINMENT
Melbourne showcases world-renowned art galleries, museums, music and film productions and numerous other cultural secrets. The city has a large range of entertainment and theatre venues.
EVENTS AROUND VICTORIA
Each year Melbourne hosts an impressive list of world class sporting events including:
Australian Grand Prix
Australian Open Tennis
Australian Football League (AFL)
Melbourne Cup
International Cricket Tour
Rip Curl Pro Surfing Championship
Discover the beauty of Victoria's regional areas:
Dandenong Ranges
Great Ocean Road
Mornington Peninsula
The Grampians
Gippsland
SHOPS AND MARKETS
The city provides a choice of shops, markets, department stores, shopping centres and specialty boutiques. You can wander through the city's myriad of arcades and laneways.